Rehabilitation Technology for Motor and Cognitive Disorders
Optimize patient outcomes with intensive functional therapy supported by therapeutic gamification
Axinesis rehabilitation technology devices help people with brain injuries achieve better functional outcomes and return to social participation.
Our neurorehabilitation technologies provide intensive, functional movement practise supported by personalized therapeutic gamification to enhance patient engagement. This stimulates neuroplasticity, leading to improved cognitive and motor skill development and faster rehabilitation, with impacts extending up to 6 months after therapy1.
Axinesis have solutions for patients of all ages and stages of the care pathway and suited for numerous pathologies, including stroke, multiple sclerosis, cerebral palsy and Parkinson's disease.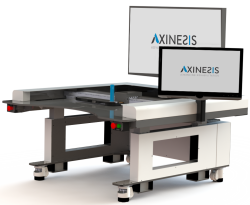 End-effector robot for intensive, auto-adaptative upper limb rehabilitation with inbuilt therapeutic gamification to increase motivation and optimise rehabilitation outcomes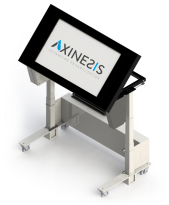 Interactive device for intensive, uni- and bimanual, functional upper limb rehabilitation with an integrated portfolio of therapeutic games for young and old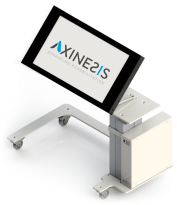 Portable interactive device that brings intensive functional upper limb rehabilitation to the home of the patient
Our cost-effective and research-backed rehabilitation technologies are designed
to enhance neuroplasticity and optimize recovery.
Intuitive graphical interfaces and personalized, self-adaptive games create a playful, stimulating environment for high patient motivation.
Our games are developed in collaboration with neurorehabilitation experts and based on therapeutic data to optimize treatment algorithms and therapeutic software.
Our devices don't require morphological adaptation, making them user-friendly for both therapists and patients and easy to integrate into your clinical routine.
1Dehem S. et al. (2019)."Effectiveness of upper-limb robotic-assisted therapy in the early rehabilitation phase after stroke: A single-blind, randomised controlled trial."
Ann Phys Rehabil Med. Sep;62(5):313-320