Axinesis expands its intensive functional rehabilitation offer
We are delighted to announce the launch of our new REAtouch® Lite: the device for decentralized upper-limb rehabilitation in the rehabilitation centre or at home.
REAtouch® Lite is the portable version of the REAtouch®: our device for intensive bimanual functional upper-limb rehabilitation.
REAtouch® bimanual intensive therapy for upper limb rehabilitation

REAtouch® by Axinesis provides intensive bimanual functional rehabilitation based on the coordinated use of both hands.
Its 43" (95 x 53 cm) screen features a tangible user interface with up to 50 touchpoints, facilitating engaging touch and audio-visual interaction.
Designed to strengthen neuroplasticity and optimize functional outcomes, the device motivates patients to make more than 1,000 movements in one single session. This means 1,500 to 2,000 touchpoints, or browsing more than 60 meters on the screen.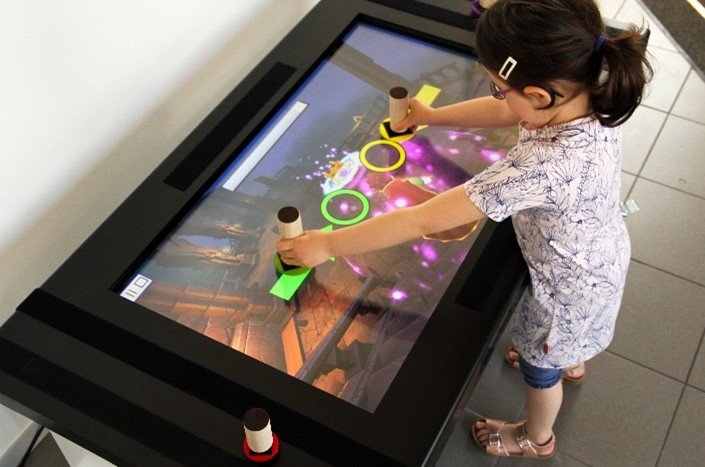 With a portfolio of therapeutic games suited for patients of all ages, and a range of playful objects in multiple shapes for manipulation and construction tasks, the REAtouch® intensive bimanual therapy creates very high motor engagement through continued motivational stimulation.
The REAtouch® Lite device for decentralized rehabilitation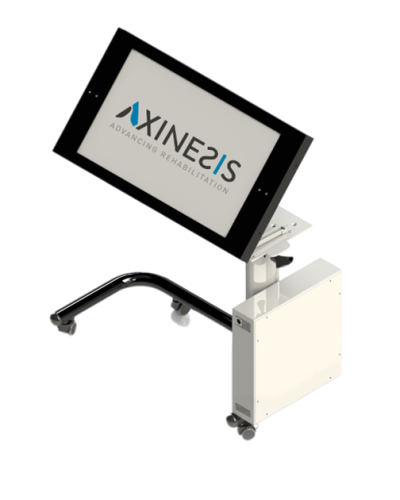 Covid-19 has prompted the development of a decentralized rehabilitation set-up. Axinesis has launched the REAtouch® Lite that can be used in a decentralized way in the rehabilitation centre or at home. REAtouch® Lite makes our intensive functional rehabilitation technology also accessible to patients who, for various reasons, are unable to take part in intensive therapy sessions in the rehabilitation centre.
It can be used as stand-alone or integrated in a network, connecting the REAtouch® and the REAtouch® Lite into one patient experience.
The REAtouch® Lite is available in a desktop version or integrated into an over-bed / over-chair table.
The 32-inch (73 x 41 cm) screen is protected by a tempered glass panel and is touch-sensitive, with up to 50 points of contact, allowing audiovisual interaction.

The REAtouch® Lite completes the Axinesis offer, covering the entire upper limb care pathway, from early rehabilitation in a care facility to a decentralized or homebased therapeutic support.