Since the 1st of September, a new member has joined Axinesis. Maxime Gilliaux, physiotherapist, doctor in motor sciences and Executive MBA in health, is now our Chief Medical Officer. He becomes our clinical and research referent for all of our collaborators.
Can you introduce yourself in a few words?
My name is Maxime Gilliaux, the new Chief Medical Officer (CMO) at Axinesis. As far as my background is concerned, I am a physiotherapist, a doctor in motor sciences and also hold an Executive MBA in health.
I have had different experiences in clinical, research and management fields.
More specifically, I had the chance to work with a team of researchers, clinicians and engineers linked to UCL, including Julien Sapin, CTO and founder of Axinesis. Together, we produced the first scientific evidences on the interest of the REAplan in the evaluation and rehabilitation of cerebral palsy patients, both adults and children. In terms of management, I created and directed a research department in a rehabilitation hospital while at the same time being part of its management committee as clinical project manager.
I think that the synergy of these skills will be a real asset in my responsibilities as CMO at Axinesis.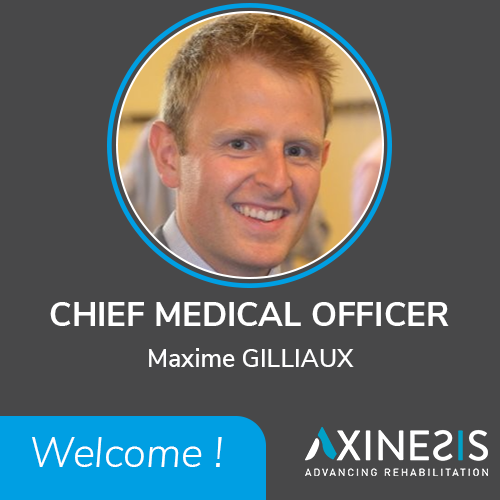 What are your responsibilities at Axinesis?
Within Axinesis, I will be the clinical and research referent for patients, health professionals, scientists, authorities, and other collaborators.
My responsibilities will be to bring a clinical and research vision to the company. At the clinical level, we will develop with the team innovative solutions that meet the needs of the patient and the therapist. In addition, we will train them to use our devices in an optimal way. On the research side, we will work with a number of researchers to validate the clinical protocols through scientific publications. 
What is your favorite game on the REAtouch?
I like the REAcooking game because of its graphic and functional aspects for the patient. Moreover, I like cooking a lot and I am very greedy!